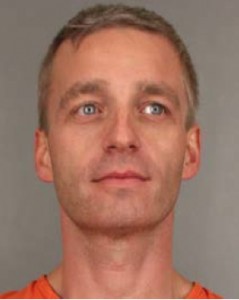 Investigators with the Arapahoe County Sheriff's Office believe there may be more victims of a man recently arrested for attempted sexual assault. On Thursday, Aug. 27, Deputies arrested 39-year-old Jeffrey Ball, of Denver, and booked him into the Arapahoe County Detention Facility on the following charges:
C.R.S. 18-3-402 C.R.S. 18-3-404 C.R.S. 18-7-302
Sexual Assault (Attempted), a class 5 Felony (No Bond) Unlawful Sexual Contact (Attempted), a class 2 Misdemeanor Indecent Exposure, a class 1 Misdemeanor
In this case, the 20-year-old victim reported that a man came into her place of business in the 9200 block of East Mineral Avenue on Thursday, August 13, 2015. She told investigators that he introduced himself and left, but returned a short time later stating that his car needed a jump start. The victim agreed to help and drove him in her car to a covered parking garage a few blocks away. The victim reported that the man then exposed himself and attempted to get the victim to perform sexual acts. The victim immediately drove back to her work where the man got out of her car.
Working with the description and surveillance video, investigators identified the man as Ball and discovered he works in the same area as the victim.
Given the nature of the offense and how it was carried out, investigators believe there may be other victims. Anyone with additional information is asked to contact Investigator Turnidge at