November 16, 2023 – Statewide Safety News – CDOT urges Coloradans to reach their destination safely
No invite a una multa de DUI a su mesa: empieza la campaña de DUI del Día de Acción de Gracias en español.
Statewide — If you gobble 'til you wobble on Thanksgiving, make sure a sober ride home is part of your plans. From Nov. 16 to 30, the Colorado Department of Transportation will support Colorado State Patrol (CSP) and 77 local law enforcement agencies for the Thanksgiving Week DUI enforcement period. This heightened enforcement will increase safety patrols across the state and reduce the number of impaired driving fatal crashes.
Statistics show impaired driving increases during the Thanksgiving holiday. Preliminary data shows that one-third of the roadway fatalities during Thanksgiving involved suspected impaired drivers between 2020 and 2022. A total of 30 people were killed on Colorado roads during that time.
Nationally, according to the National Highway Traffic Safety Administration (NHTSA), 190 people lost their lives during the 2021 Thanksgiving holiday due to impaired driving.
"Holiday celebrations often include alcohol and cannabis as friends and families gather; this should never be an excuse to drive intoxicated," said Col. Matthew C. Packard, chief of the Colorado State Patrol."Thanksgiving is a time to remember what you are most grateful for and those things are the exact same reasons why you need to drive sober."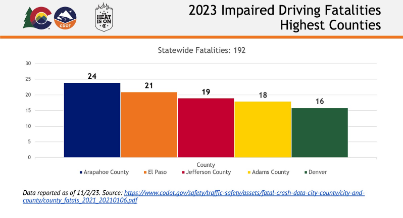 Last year, there were 366 DUI arrests over the Thanksgiving Week DUI enforcement period. So far this year, 192 people have been killed in crashes involving an impaired driver in Colorado. That represents almost a third of all fatal crashes in the state this year.
"With so many safe-ride options available, there is no reason to ever drive under the influence," said CDOT's Office of Transportation Safety Director Darrell Lingk. "If you've been drinking, don't get behind the wheel. Always plan to have a designated driver, use a rideshare program, a taxi or public transit to get home safely."
During enforcement periods, motorists may see:
Sobriety checkpoints
Saturation patrols
Additional law enforcement on roadways
The recent Halloween Weekend enforcement period concluded with 170 arrests across 80 participating agencies. The agencies with the highest arrests were Colorado Springs Police Department (28), Fort Collins Police Department (16) and Lakewood Police Department (9). CSP reported 22 arrests.
Thanksgiving Week is the first of three year-end holiday enforcement periods. The last two holiday enforcement periods of 2023 are Holiday Parties from Dec. 7 to 20 and New Year's Eve Weekend from Dec. 28 to Jan. 3.
For yearly impaired-driving crash and fatality data in Colorado, visit https://www.codot.gov/safety/traffic-safety/data-analysis/fatal-crash-data. For local law enforcement agency plans, visit https://www.codot.gov/safety/traffic-safety-reporting-portal.
About The Heat Is On
The CDOT Highway Safety Office provides funding to Colorado law enforcement for impaired driving enforcement, education and awareness campaigns. The Heat Is On campaign runs throughout the year, with 16 specific high-visibility impaired driving enforcement periods centered on national holidays and large public events. Enforcement periods can include sobriety checkpoints, saturation patrols and additional law enforcement on duty dedicated to impaired driving enforcement. Find more details about the campaign, including impaired driving enforcement plans, arrest totals and safety tips at HeatIsOnColorado.com. More information about DUI laws in Colorado can be found at NoDUIColorado.org. Learn more about CDOT's dedication to keeping Colorado roads safe, including impaired driving enforcement objectives, arrest data and safety information at codot.gov/safety.