Whether you wear a cape daily or just once a year for Halloween, you can fang Lawn Love for ranking 2023's Best and Worst Cities for Vampires.
To encourage blood donations during the national shortage, we compared the 500 biggest U.S. cities based on 5 categories.

We looked for cities with plenty of warm bodies, blood centers, and vampire-friendly dwellings like homes with basements. We also considered community and entertainment factors, such as vampire groups and tours, as well as deterrents like sunshine and garlic festivals, among 17 total metrics.

See the 10 best (and 10 worst) cities for vampires below, followed by key stats from our report.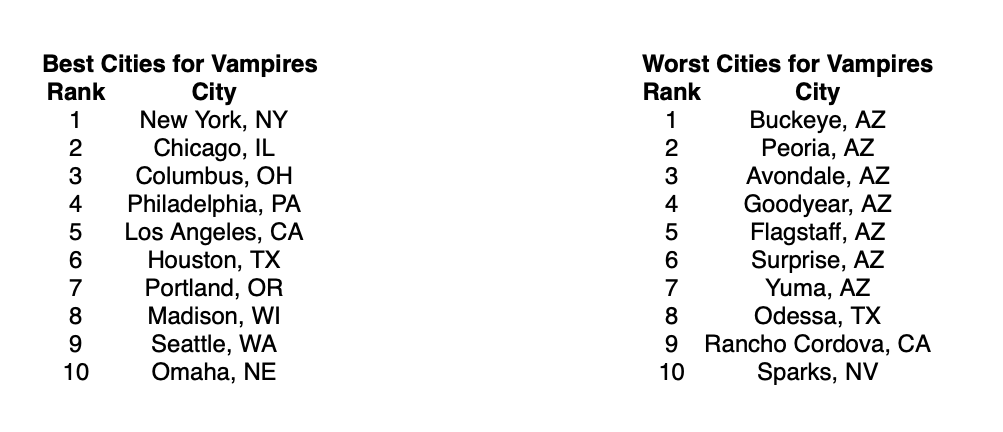 Key insights:
Big cities like New York (No. 1), Chicago (No. 2), and Philadelphia (No. 4) fly to the top of our ranking with a plethora of potential victims and blood donation centers.

23 states — such as Massachusetts, Ohio, and Illinois — and the District of Columbia rank in the better half. Cities across New Englandand the Midwest dominate, thanks to lower rates of sunshine and scores of underground lairs (aka basements). All 8 Connecticut citiesin our ranking impress in the top 100 due to high historical cloud cover.

4 sunbaked states — Hawaii, New Mexico, Nevada, and Idaho, the only U.S. state that has outlawed cannibalism — lurk in the bottom half. Las Vegas is the lone exception at No. 233 overall.

7 Arizona cities melt into the bottom 10 with bountiful sunshine and few basements to evade the rays. However, not all sunny cities deter vampires. Tucson (No. 159) ties with Atlanta (No. 25) for the 3rd-highest number of vampire groups. Phoenix (No. 222) and Scottsdale(No. 417) are each home to vampire-friendly clubs.

Helpful links: