Fugitive from Justice — CAN YOU HELP?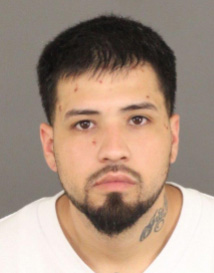 Adams County, Colo. – The Adams County Sheriff's Office is asking for public assistance in locating Justin Lee Gonzales. Justin Lee Gonzales was out on bond awaiting trial for the charges of 1st Degree Trespass, Possession of a Weapon by previous Offender; Violation of Protection Order, Prohibited Use of a Weapon and Abandonment of Motor Vehicle on private property. The Sheriff's Office received a notification that Justin Lee Gonzales had removed his ankle monitor (GPS) that he was wearing as a condition of bond and a part of the supervised release program.
Justin Lee Gonzales is described as a 29 year-old white male, 5'10" 180 lbs., with brown hair; and brown eyes. Gonzales' last known location was in the area of 1370 S. Osceola in Denver, CO.
Warrants for the arrest of Justin Lee Gonzales for the listed charges and Violation of the Conditions of Bond and the supervised released program have been issued. If you know Justin Lee Gonzales' whereabouts or see him or someone matching his description; please call 911 or the Adams County Sheriff's Office at 303-288-1535.
SPREAD THE NEWS
COMMENT, Like, Follow & SHARE@I70Scout
---
---