JUNE 2018 at the DAM: NEW TERRITORY: LANDSCAPE PHOTOGRAPHY TODAY OPENS, LA MUSIDORA RETURNS, JEFFREY GIBSON: LIKE A HAMMER, UNTITLED: JORDAN KNECHT AND OTHER HIGHLIGHTS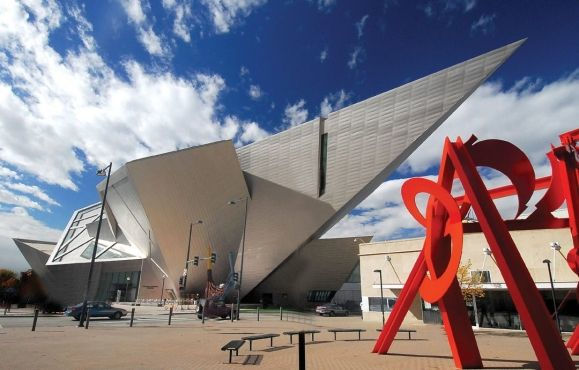 New Territory: Landscape Photography Today — Opening June 24, is a survey of contemporary landscape photography from around the world. The exhibition of more than 100 photographs will explore how artists stretch the boundaries of traditional landscape photography to reflect the environmental attitudes, perceptions and values of our time.
The works on view revive historic photographic processes as well as use innovative techniques and unconventional equipment and chemistry to depict landscapes in surprising ways. Taken individually and as a whole, the photographs will show how about 40 artists have manipulated materials and processes for expressive purposes, blurring the distinction between "observed" and "constructed" imagery. The exhibition challenges us to see photography differently, and contemplate our complex relationship with the landscape. A daily 45-minute guided tour will be offered at 1:30 p.m. beginning June 25.
New Territory: Landscape Photography Today will be on view through Sept. 16, 2018. Both the exhibition and tour is included in general admission; free for members and youth 18 and younger. #NewTerritoryatDAM
La Musidora — Opening May 23–Sept. 3
La Musidora is a combination of the Spanish words "la música" (music) and "la mecedora" (rocking chair). This visitor favorite is back for another summer. Take part in this interactive outdoor art installation located on Martin Plaza near the museum's Hamilton Building entrance. Make musical sounds by gently rocking colorfully woven chairs in tandem. This 90-foot artwork seats a total of 20 visitors at a time. La Musidora was designed by Héctor Esrawe and Ignacio Cadena of the interdisciplinary design firm Esrawe + Cadena in Mexico City.
Jeffrey Gibson: Like a Hammer — Through Aug. 12
The first major museum exhibition of the artist's work, Jeffrey Gibson: Like a Hammer chronicles a pivotal moment in Gibson's career when his contemporary artistic practice converged with his Native American heritage. About 57 objects created from 2011 to the present are on view, including figurative works, text-based wall hangings, painted works on rawhide and canvas, a significant selection of beaded punching bags and video. The exhibition shows how Gibson draws upon his heritage and remixes his older works to create a visual vocabulary that explores his multi-faceted identity and the history of modernism. Gibson's abstract works take inspiration from his Choctaw and Cherokee heritage, pan-Native American visual culture, alternative subcultures and the artist's experiences living abroad as well as popular culture. Striking patterned and textured works also incorporate text from poems and song lyrics.
Gibson frequently explores colonialism and the post-colonial mindset, reflecting on how American Indian experiences parallel other civil rights movements. His work also revolves around universal themes of love, community, strength, vulnerability and survival. Visitors will gain an enhanced understanding of Gibson's distinctive and complex creative practice, as well as how it has evolved from series to series.
A daily 45-minute guided tour is offered at 2 p.m. An exhibition catalog is available in The Shop and online. The exhibition is included in general admission; free for members and youth 18 and younger. #GibsonLikeaHammer
Stampede: Animals in Art — Through May 19, 2019
Stampede: Animals in Art brings together more than 300 objects from across the DAM collection to explore the presence of animals in art throughout centuries and cultures. The exhibition creates an opportunity for visitors to discover and consider the role animals play through themes such as personal connections with animals, how animal materials have been used in art, how animals are used to tell stories or represent political ideas and how artists use animals in imaginative ways. Stampede includes visitor favorites—a Nick Cave Soundsuit, Deborah Butterfield's horse sculptures and artworks by Frederic Remington and Georgia O'Keeffe—as well as rarely seen works. A daily 45-minute guided tour is offered at 1 p.m. Included in general admission; free for members and youth 18 and younger.
---
FAMILY FUN
Create Playdate — June 13, 10 a.m.–2 p.m. (extended summer hours)
Drop in with your little ones, ages 3 to 5, on the second Wednesday of the month. Meet up with other tots and their grownups for storytime, artmaking and more! Create Playdate is a bilingual program (available in English and Spanish). Included in general admission; free for members and kids 18 and younger. No reservations required.
Create-n-Takes for Summer Fun through –Aug. 19: Monday–Friday 10:30 a.m.–3 p.m. and Free First Saturdays 10 a.m.–4 p.m.
Mapping Myths and Monsters (until July 20): Imagine what it would be like to be an explorer and chart encounters with monsters in your own travel journal.
Hold Your Horses (starting July 23): How do sculptures move and stand still at the same time? Explore this idea by looking at bronze horse sculptures and make your own horse.
Carry Me Close (May 19–Aug. 19): Learn about the extraordinary work and creative process of artist Jeffrey Gibson, and create a project inspired by his art.
Sew Wild: Take a walk on the wild side and sew together your own animal-inspired story.
Photo Finish (June 2–Aug. 19; on Martin Plaza 11 a.m.–2 p.m. Mon.–Fri.): Experiment with surprising techniques and unexpected materials to create your own customized photographs. #ArtofSummer2018
Open during daily hours
Step into the forest and experience new animal-inspired activities created to celebrate the exhibition Stampede: Animals in Art in our newest family space, located on level 3 of the Hamilton Building. Build animals out of branch-like blocks, pick up a pair of binoculars for a bird-watching challenge, mix and match to create unique creatures or put together a shadowbox to display all your favorite animals in a mini-menagerie. Included with general admission; free for members and kids 18 and younger.
---
ADULT PROGRAMS AND LECTURES
Drop-In Drawing — June 12, 1–3 p.m.
Join artist Anna Kaye in our fun and informal creative art sessions. Bring a drawing or sketching project of your own or get started on something new. All ranges of drawing experience are welcome! Materials provided or bring your own supplies (only graphite pencils, kneaded erasers and sketchpads 14 x 17 inches or smaller permitted in the galleries). Included in general admission; free for members and youth 18 and younger.
Mindful Looking — June 19, 1 p.m.
Join us on the third Tuesday of each month for Mindful Looking, a program that invites you to slow down and spend quality time with a single work of art. In June, explore the surreal imagery of Inka Essenhigh's End of the World with DAM teaching specialist Molly Medakovich and Kadam Lucy James (Kadampa Meditation Center). James will lead our first look at the painting with a mindfulness meditation practice. Discover overlooked details, explore ideas and make connections as we linger, look and discuss. Included in general admission; free for members and youth 18 and younger.
June 22, 4–5 p.m.
Unwind from your week with a mindfulness meditation session in the Ganesha: The Playful Protector exhibition, led by our partners from the Kadampa Meditation Center. From first-timers to regular practitioners, all are welcome to join in on this hour of relaxation, reflection and quiet calm. Chairs, yoga mats and meditation cushions provided. No registration necessary, but space is limited. Included in general admission; free for members and youth 18 and younger.
Drop-In Writing — June 26, 1–3 p.m.
Explore your creativity through the written word in our informal writing sessions with staff from the Lighthouse Writers Workshop. Bring your own writing projects or get started on something new. Open to all levels, from published authors to the occasional journaler! Materials available. Included in general admission; free for members and youth 18 and younger.
Untitled: Jordan Knecht — June 29, 6–10 p.m.
Be part of the process and create with Denver artists in an evening of shared perspectives and sensory explorations at the DAM. Join us in transforming the museum through a series of multi-sensory experiences aimed at shifting perspectives by seeing through each other's eyes and hearing through each other's ears. Produced with local creatives, Untitled Final Fridays is the museum's monthly late night program featuring workshops, performances and tours with a twist. Experience the museum in an entirely different way—every time. Included in general admission; free for members and youth 18 and younger. College students with ID receive 2-for-1 admission to Untitled Final Fridays. Untitled Final Fridays are presented by Your 6 Hometown Toyota Stores.
---
SPECIAL ACCESS PROGRAM
Weekend Artist Demonstrations in June – Saturdays & Sundays, noon–3 p.m.
SPREAD THE NEWS
COMMENT, Like, Follow & SHARE @I70Scout
---
---