Elkhead Reservoir Fishing Classic will wrap up this weekend… it's not too late to join the fun!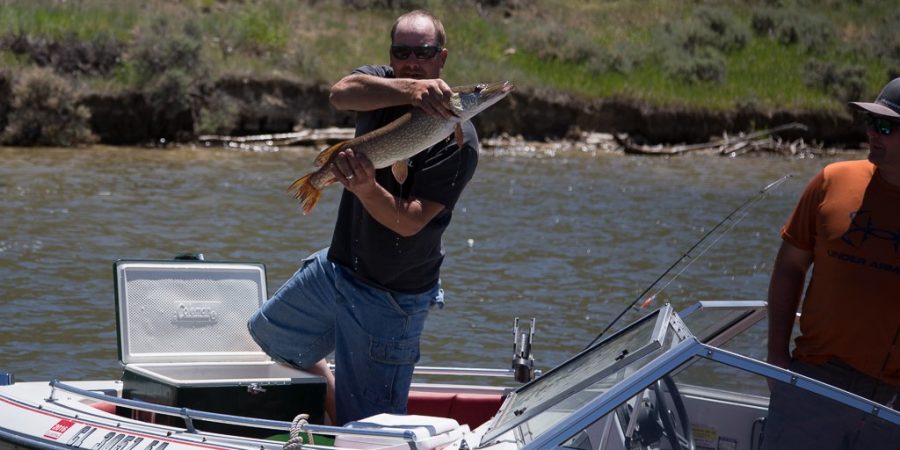 CRAIG, Colo. – Anglers of all ages, novice or expert, should begin planning now to participate in Colorado Parks and Wildlife's Third Annual Elkhead Reservoir Fishing Classic, June 23-July 1. The week-long fishing tournament at Elkhead Reservoir State Park near Craig offers great fun, great fishing and $4,500 in cash plus $4,500 in prizes.
Any angler that catches the 2018 tagged northern pike can keep the fish and the $1500 grand prize. The same amount goes to the lucky angler that catches the 2018 tagged smallmouth bass. Other prizes include $750 for the most northern pike caught, and $750 for the most smallmouth caught. In addition, CPW will be giving away a variety of daily prizes to tournament participants totaling more than $4,500
This is turning into a really great event with more and more anglers participating from year to year. Last year, we had over 300 anglers out on the water, catching many fish and having a good time. It's great to see anglers participate with CPW in managing their fishery. Based on growing interest, we are hoping to see even more anglers this year. — Senior Aquatic Biologist Lori Martin
You must register at the reservoir during the event to be eligible for prizes. Entry fees are not required.
If no one catches the 2018 northern pike or smallmouth bass, CPW will hold a drawing for participants to win the $1,500 in cash prizes.
All current state fishing and boating regulations apply. Anglers under the age of 16 can fish for free and anyone 64 and older can purchase a license for one dollar. Anglers between 16 and 63 must possess a valid license. CPW recommends purchasing a fishing license prior to arriving at Elkhead Reservoir. License sales are not available at Elkhead Reservoir. Fishing licenses can be purchased over the phone by calling 1-800-244-5613.
A valid pass is required to enter the park and can be purchased at Elkhead Reservoir.
For more information, visit www.cpw.state.co.us/tournament, or contact Elkhead Reservoir State Park at 970-276-2061.
Who: Colorado Parks and Wildlife
What: Third Annual Elkhead Fishing Classic
When: June 23 – July 1
Where: Elkhead Reservoir State Park – Near Craig, Colorado
During the 2017 Elkhead Reservoir Fishing Classic, anglers caught 1,359 fish, including 963 smallmouth bass and 396 northern pike. The totals are a marked increase from the tournament's first run in 2016 when 56 anglers caught only 582 fish.
SPREAD THE NEWS
COMMENT, Like, Follow & SHARE @I70Scout
---
---