From the desk of Senator Cory Gardner… police body armor and more
Senators Gardner and Markey Highlight their Asia Strategy
SFRC Hearing Highlights ARIA Legislation
Washington, DC – U.S. Senators Cory Gardner (R-CO) and Ed Markey (D-MA), Chairman and Ranking Member of the Senate Foreign Relations Subcommittee on East Asia, the Pacific, and International Cybersecurity Policy led a hearing on Tuesday focusing on their legislation, the Asia Reassurance Initiative Act (ARIA).
Last month, Senator Gardner and Senator Markey along with Senator Rubio (R-FL) and Senator Cardin (D-MD) introduced the Asia Reassurance Initiative Act (ARIA), which is designed to serve as a policy framework to enhance U.S. leadership in the Indo-Pacific region and to demonstrate a commitment to a free and open Indo-Pacific and the rules-based international order.
Our ARIA legislation provides the United States a long-term strategy in Asia that preserves American national security interests, promotes American businesses and creates jobs through trade opportunities, and projects American values of respect for human rights and fundamental freedoms. The United States has always been — and will always remain — a Pacific power, and the support expressed by Administration officials at today's hearing proves that the U.S. government can speak with one voice to reassure our allies and to deter our adversaries in the Indo-Pacific region. — Senator Gardner
Today's hearing included witness testimony from Randall Schriver, Assistant Secretary of Asian and Pacific Security Affairs at Department of Defense and Alex Wong, Deputy Assistant Secretary, Bureau of East Asian and Pacific Affairs at Department of State.
In 2017, Gardner and Markey held four hearings in their Subcommittee to inform ARIA. The hearing series, titled, "American Leadership in the Asia-Pacific," included hearings on security challenges, economic opportunities, promoting human rights and the rule of law, and U.S.-China relations.
We are at a unique moment in history in which the United States needs to communicate to Asia – to allies and adversaries alike – that we are invested in the region. We have the opportunity to push back on China's efforts to undermine the international system, strengthen alliances, tackle issues from terrorism to climate change, and empower people to seek freedom and economic opportunity. We can do that through bipartisan policies that promote the rules-based order, peacefully denuclearize North Korea, and promote human rights and the respect for democratic values. The United States simply cannot afford to cede leadership in such a critical region. — Senator Markey
A background paper on ARIA can be found here.
---
Gardner to Introduce Body Armor Bill to Protect Law Enforcement Officers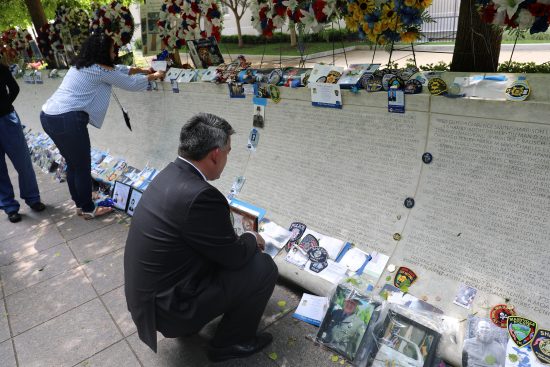 Participates in Wreath Laying Ceremony for National Police Week
Washington, DC – Senator Cory Gardner (R-CO) announced today that he will be introducing legislation designed to help outfit every law enforcement officer in the country with Type III body armor, which is designed to stop rifle ballistics.
According to the Department of Justice (DOJ), the vast majority of bulletproof vests purchased using the Bullet Proof Vest Partnership (BVP) grant program were Type II vests. Type II vests do not stop rifle ballistics, which killed two of the officers in Colorado who were wearing either Type II or Type I body armor at the time. Type III rifle-resistant plates might have saved their lives, but many departments, especially smaller departments, simply do not have the budget to purchase Type III body armor vests. The bill also authorizes additional funding for the National Institute of Standards and Technology (NIST) to research more advanced body armor.
Our law enforcement officers put their lives on the line every day to protect and serve our communities. They are always there to help others and deserve nothing less than our gratitude and thanks. Unfortunately, Colorado and departments across the country have seen too many officer involved deaths and we must do more to protect those who protect us. Our officers should not be put in harm's way without the absolute best equipment and that is why I am introducing legislation, which will make it easier for every officer in the country to purchase body armor that can withstand rifle bullets. I will work with members on both sides of the aisle to see this important piece of legislation signed into law. — Gardner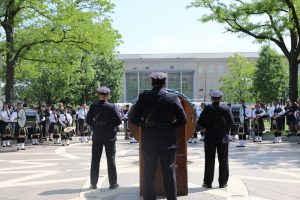 Gardner also took part in the National Peace Officers' Wreath Laying Ceremony as part of National Police Week. Gardner met with Coloradan officers and officers from around the country to thank them for their service and honor the law enforcement lives we have lost in 2017. "It was a humbling experience to participate in today's ceremony and remember the law enforcement lives we have lost. Colorado's law enforcement community has experienced tremendous loss these last few months and I want every officer to know I stand with them and have their backs," said Gardner.
---
Bennet & Gardner Applaud Committee Approval of West Fork Fire Station and Peak Naming Bills
Bennet-led, bipartisan bills would assist southwest Colorado, honor legacy of distinguished mountaineers
Washington, D.C. – Today, the Senate Committee on Energy and Natural Resources passed two bills led by U.S. Senator Michael Bennet (D-CO) and cosponsored by U.S. Senator Cory Gardner (R-CO) that would improve safety in southwest Colorado and honor the legacy of two distinguished Colorado mountaineers, Charlie Fowler and Christine Boskoff. Companion bills introduced by Congressman Scott Tipton (R-CO-03) have passed the House of Representatives.
"We are pleased with the approval of these bills—which, in distinct and significant ways, will benefit the southwest Colorado community—and we will continue to advocate for their passage in the Senate," Bennet said.

"These two bills clearing another legislative hurdle is great news for Southwest Colorado," Gardner said. "They will have a positive impact on our region, and I look forward to continuing to work with Senator Bennet and Congressman Tipton to get them signed into law."
The West Fork Fire Station Act would convey about four acres of Forest Service land to Dolores County for the location of a new fire station. Without a station, fires pose a greater threat to the West Fork community, and homeowners are unable to purchase insurance. Building a fire station would decrease response times to emergency calls, reduce the financial burden on the region's other emergency responders, and provide a staging area to respond to wildfires.
The Fowler and Boskoff Peaks Designation Act would name two Colorado mountain peaks in honor of distinguished mountaineers Charlie Fowler and Christine Boskoff, who died in a 2006 avalanche while attempting to summit Genyen Peak in Tibet. Over the course of their outstanding climbing careers, Fowler and Boskoff summited several 26,000-foot mountain peaks, including Mt. Everest. Fowler, who was known in southwest Colorado for building climbing walls in schools, received the Robert and Miriam Underhill Award for outstanding mountaineering achievement from the American Alpine Club in 2004. Boskoff, who was one of the world's most accomplished American female mountain climbers, contributed countless hours to non-profit organizations that supported the rights of porters and Sherpas, women's education, global literacy, and gender equality.
Statements from Bennet and local stakeholders on the West Fork bill are available HERE and on the Peaks Designation bill are available HERE.
SPREAD THE NEWS
COMMENT, Like, Follow & SHARE @I70Scout
---
---