Video from Senator Gardner to Law Enforcement: "We Have Your Backs"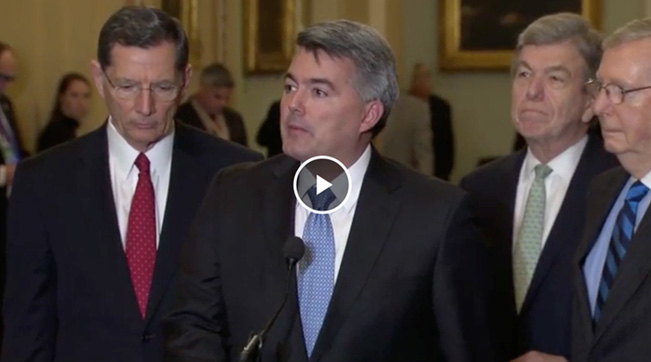 Gardner speaks at GOP Leadership Press Conference About Attacks on Colorado Law Enforcement Officers
Washington D.C. — Senator Cory Gardner (R-CO) today spoke about the three horrible tragedies that have taken place in Colorado since December 31, 2017 at the Senate GOP Leadership Press Conference.
Having trouble viewing this video? Read below for the paraphrased transcript:
Over the course of the past 36 days in Colorado, ten law enforcement officers have been shot and three have been tragically killed including one yesterday.

This has left four children without fathers and countless loved ones with enormous losses.

Deputy Parrish, Deputy Gumm, and Deputy Flick gave their lives to protect their community and we cannot do enough to honor their sacrifice, and we must never forget it.

I want every law enforcement officer in Colorado and this country to know that we have their backs and enough is enough.

Former State Representative Joe Rice who served multiple tours in Iraq and Afghanistan wrote how he prays for his fellow soldiers and their safety each and every day by saying and praying: "For all of those around the world in harm's way we pray with you. Please God just not today."

And I want to echo that sentiment and let our men and women in blue – law enforcement around the country – know that I pray with you each and every day. Please God, just not today.
SPREAD THE NEWS
COMMENT, Like, Follow & SHARE @I70Scout
---
---