Can You ID This Robber?

The Arapahoe County Sheriff's Office is requesting the public's assistance with the identification of a suspect involved in a robbery at a business.
On Nov. 29, 2017, at 4:42 p.m. the Arapahoe County Sheriff's Office received a call, reporting a robbery at a business in the 2000 block of S. Parker Road. The suspect robbed the victim at gunpoint and received an undisclosed amount of cash out of two registers.
The suspect is described as a black male, 6' 01" to 6' 03" tall, 220-240 lbs., with black hair and a mustache. He was wearing a blue hooded sweatshirt; light-colored jeans; black shoes; and a large, gold ring on his left hand. He may have left the business in a newer model, dark gray Hyundai SUV with a partial license plate number 631.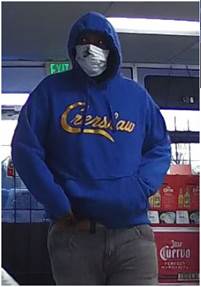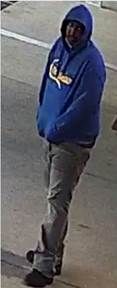 Anyone with information about the identification of the suspect is asked to contact Crime Stoppers at 720-913-STOP (7867) or the ACSO Crime Tip Hotline at 720-874-8477.
SPREAD THE NEWS
---
---