Bennett girls make state volleyball tournament; will play Friday afternoon/evening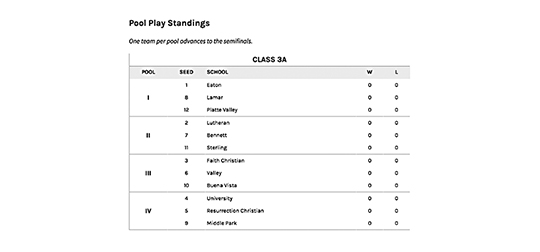 by Steven Vetter, Managing Editor
The Bennett Lady Tigers were the last of 12 teams to stamp their ticket to this weekend's 3A State Volleyball Championships at the Denver Coliseum after outlasting Cedaredge and Eagle Ridge in Region 9 Nov. 4. The orange-and-black needed an extra game to 25 points against Eagle Ridge to garner their berth.
The seventh-seeded Tigers are in Pool II at the state tournament with No. 2 Lutheran and 11th-seeded Sterling and won't be on the court until the seventh match on Friday against Lutheran. Eight matches are scheduled for Friday with the first one to start at 8 a.m. The Colorado High School Activities Association has scheduled matches to start 8 minutes after the previous one has concluded. There are no set start times after the first match.
On Saturday, Bennett and Sterling are slated to play the third match with the first match again slated to begin at 8 a.m. The winner of Pool II will play the champion of Pool III in the semifinals later Saturday afternoon. The other semifinal pits the winners of Pools I and IV against each other. The championship match is scheduled for 7 p.m. Saturday.
For postseason updates, visit www.i-70scout.com.
A 3A state pool play schedule follows: