Residents to grill candidates on range of hot topic issues — Colorado's 6th Congressional District Candidate Forum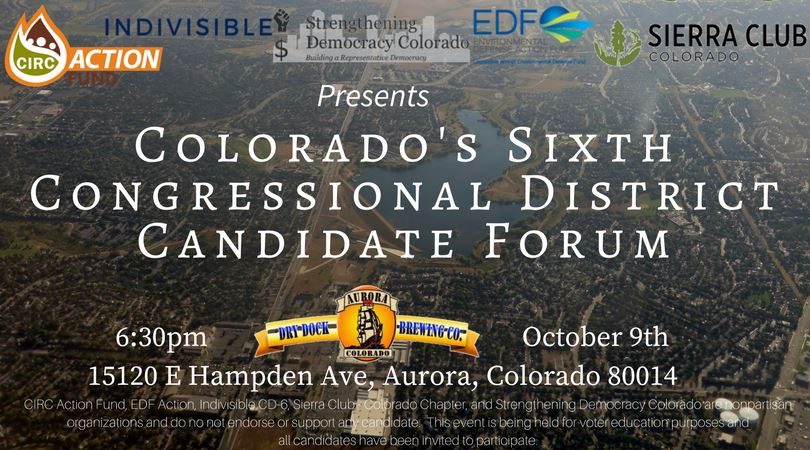 Residents of Colorado's Sixth Congressional District will have the opportunity to meet the candidates running to represent them in Washington and hear their positions on the issues that matter most to our community. Topics of discussion will include how to balance the needs of a growing economy with the health and safety of our community, immigrant rights, education, clean energy, recent votes in Congress, and how to strengthen our democracy.
This event is being held for voter education purposes and all candidates have been invited to participate.
A moderator will ask questions submitted from each organization, as well as three questions based on a topic requested by each candidate, followed by an opportunity for the audience to ask their own questions. Spanish translation services will be provided. This forum will be live-streamed by ProgressNow -.
Where: Dry Dock Brewing Company, South Dock, 15120 E Hampden Ave, Aurora, Colorado 80014
When: 6:30pm MST on Monday October 9th
Confirmed candidates: David Aarestad, Jason Crow, Levi Tillemann
Moderator: Kara Cook Schultz, Toxics Director of US PIRG
Hosts: The Colorado Immigrant Rights Coalition (CIRC) Action Fund, EDF Action, Indivisible CD-6, Sierra Club Colorado, and Strengthening Democracy Colorado. All hosts are all are nonpartisan organizations and do no not endorse or support any candidate.
---
Quotes:
Jason Crow: "The 6th Congressional District deserves a representative that puts Colorado values ahead of Washington special interests, especially when it comes to our air and water, public lands and local economy. I look forward to discussing these important issues facing our community."
Levi Tillemann: "Tonight's forum is an opportunity to hear voters' concerns and priorities on the issues that matter most to our community (e.g. the environment, economy, immigration, government accountability and education). I've spent my life building a stronger, cleaner economy as an innovator, entrepreneur, and member of the Obama administration. In the process, I've helped some of the world's most innovative companies prepare for the future and I look forward to doing the same thing for Colorado."
David Aarestad: "This forum represents an important opportunity for the people of the 6th district to compare the people seeking to represent them. We want to thank EDF Action and their partner groups for this service and look forward to participating in a vigorous debate."
EDF Action: "Participation, accountability and transparency are core principles of our democracy. That's why EDF Action is thrilled to provide a platform for the candidates running to represent Colorado's 6th Congressional District to articulate their priorities and values while addressing the questions posed by the community. Our hope is that the innovative format of this candidate forum will serve as a template for Coloradans to have increased access to candidates and encourage a more open and participatory democracy."
Strengthening Democracy Colorado: "Strengthening Democracy Colorado is excited to be a part of this event. Our mission is to build a society that works for all of Colorado by building a democracy that does. This event will help fulfill that vision. It gives Coloradans an opportunity to share their priorities and needs with candidates for public office, and gain the insight they need to feel like their vote matters come election day." Indivisible CO CD-6: "Indivisible CO CD-6 is excited about getting to know where Congressional District 6 candidates stand on issues that we care about well before the 2018 election. We understand that our vote will be of particular significance in 2018, so we plan to remain engaged and well informed. This will be a great start!"
---
SPREAD THE NEWS
COMMENT, Like, Follow & SHARE @I70Scout
---
---